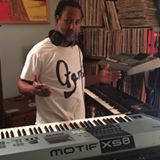 Fro Organix
Ron Flowers, known as Fro Organix is from Richmond Virginia. Starting out as a DJ in 1984, a talent passed down from his father Organix later graduated to music production. Within a few years Organix started a group with one of his close friends They had many names and in the end had the name I.D.U. Productions. Between 1988 – 1993 I.D.U. with members B Trent (Via), M. Archer (D'angelo), Tony Walker (Mega Roka) R. Johnson, (DJ Velocity) created many original pieces.
In 1993, then called Baby Fro, Organix was signed to a publishing deal. Within his career Organix has collaborated with, signed and un signed artists including D'Angelo, Dirty Soulz, Angie Stone, Lemel Humes, Amholis Mbolo, Buttas (Shaun Nicole), Jimmy Trent, Mitch L Hennessy, BoomTown, Divine Sunz, House Of Tre', New Breed of Funk (Va Slim, J.D. Haze), The Flamethrowarz, Via, Mega Roka, Dennis "Lucky" Taylor and a few other un signed artists. Organix also recorded an un-released remix for Casserine and a promotional Remix for Brandy, "Baby"collaborating production with D'Angelo. Fro in 1999 and 2000 created and promoted two Virginia music showcases called the "Hip Hop Expo" bringing 14 of the hottest unsigned talent to the stage.
The goal is to let the world hear and see his thoughts, visions and to make a difference to the hearts and soul of the listener and looker. Thank you for your time and interest.
PEACE, LOVE & MUSIC! …
Works
DJ (1984 – 1990)

Music Producer (1986 – Present)

 I.D.U. Productions (1986 – 1991)

Midnight Music Publishing (Polygram) (1992-1996)

Worked in Battery Studios with the Dirty Soulz and D'angelo (1992-1994)

Baby Baby Remix for Brandy. Co Produced with D'angelo – 1994

Produced/Released Buttas "Snake Eyes" – 1996

Promoted Music Showcase (Hip Hop Expo) – 1998

Promoted Music Showcase (Hip Hop Expo II) – 1999

Tracks on Dennis "Lucky" Taylor album release -2010

Producer, Mega Roka album release – 2011

 Released Instrumental Producer album "Meter" – 2015

 Released SoundCloud Instrumental Album "The Ganix" – 2016

Released SoundCloud Instrumental Album "The Ganix ii – 2017

Released Sophomore Instrumental album "Platinum" – 2017

 Slika "Halfway House" Video (Filmed and Co-Directed) – 2018

Slika "Tear It Down" Video (Treatment, Directed, Filmed, Edited) – 2019
Experience
Project Management, Production, Arranging, Artist Development, Recording and Mixing, Marketing, Promotions, Artist Management, Screen Writing